H.H. Smith & Sons Co. Ltd are committed to improving the community, economy and environment where we live and work
We understand our activities have an impact on the surrounding areas, and we work hard to ensure these are positive. Examples of our actions include: providing continued employment for a local workforce, using local sub-contractors and suppliers, offering apprenticeship and work experience placement opportunities, development and upskilling of the workforce with training opportunities, improving the health and well-being of employees with targeted campaigns and tool box talks on topics such as mental health/equality & diversity/bullying/ testicular cancer, and contributing to community projects through donations, materials or labour.
Our waste minimisation programmes reduce waste to landfill and ensure materials are recycled where feasible. We are working on reducing carbon emissions by increasing the use of electric vehicles, operating a shared travel policy, and implementing innovative energy saving manufacturing and production methods. All bring project benefits and add value beyond the traditional contract requirements.
We teamed up with local painting and decorating company Paint Saints and donated our time into sprucing up Springhill Hospice in Rochdale. Love the colour, great work Paint Saints!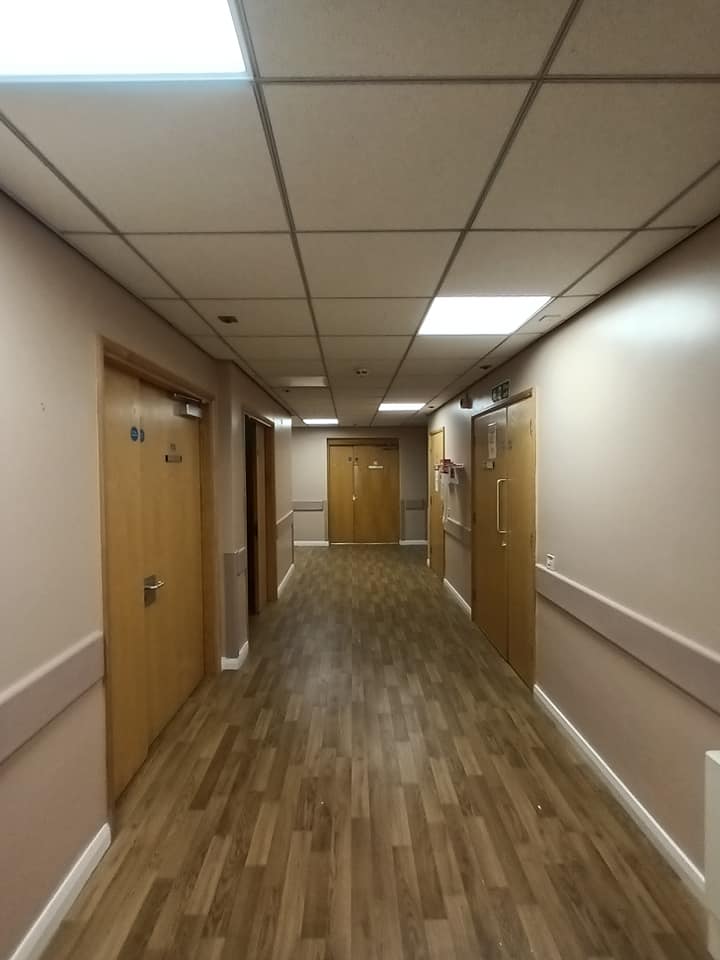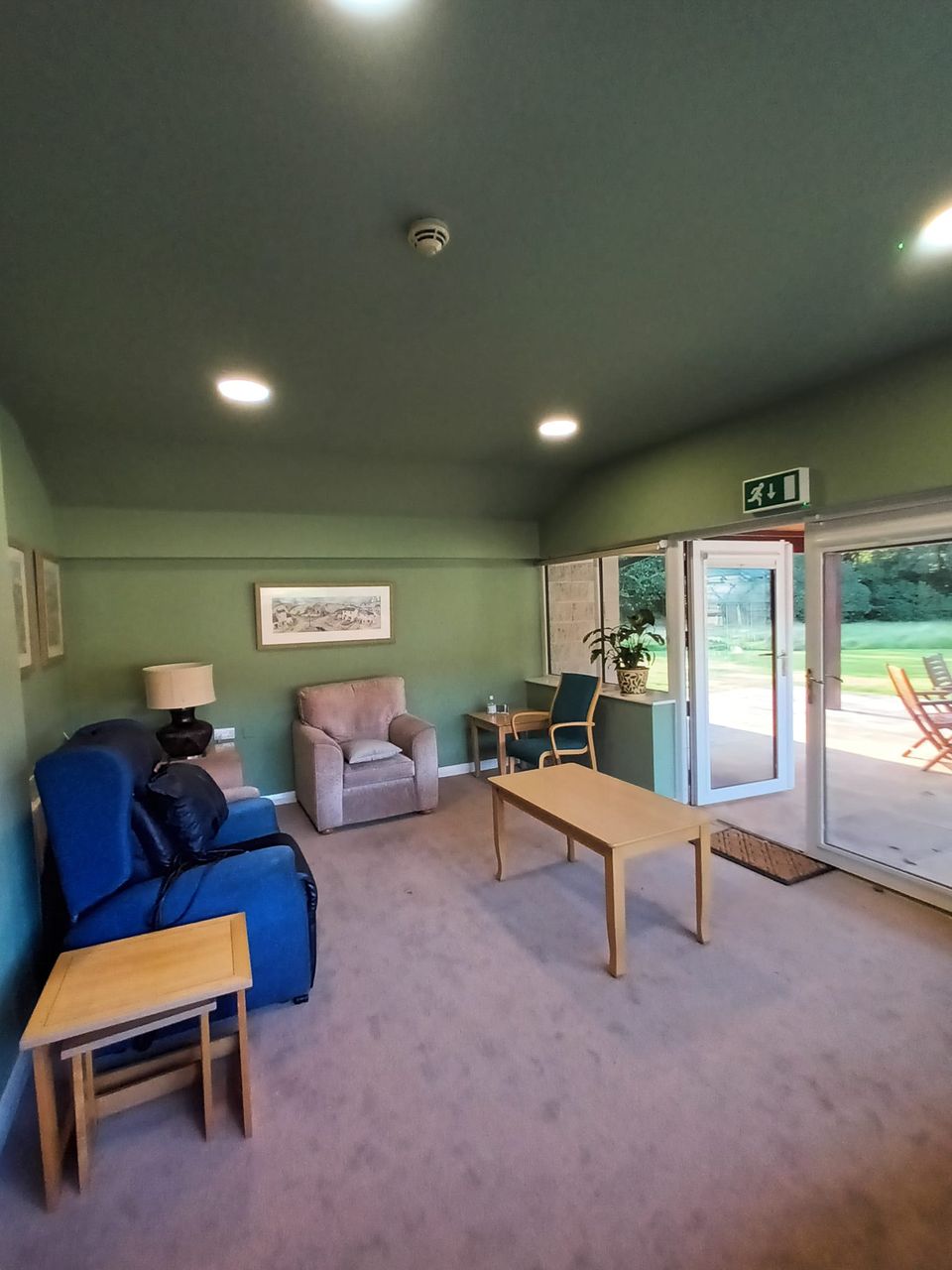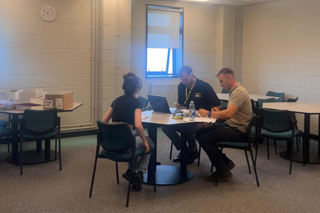 Apprenticeship Opportunities for construction students
This week we visited the Pagefield Centre to speak with and interview some of our current construction students for potential apprenticeship opportunities.
Juan Crous and Ollie Glasset down with 10 of our construction students to discuss opportunities for Plastering, Brickwork and Joinery. The day was valuable in giving some of their full-time students an experience of a real interview as they look to source an apprenticeship this summer.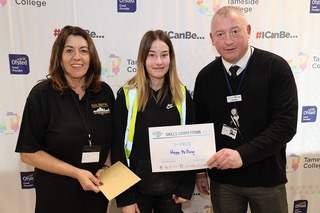 Greater Manchester Colleges' Construction Skills Competition
Great to be part of the Greater Manchester Colleges' Construction Skills Competition last week.
Held at Tameside college, students from various colleges across Greater Manchester took part.
Bernadette Tatton from our office visited the event and awarded some prizes to the talented students.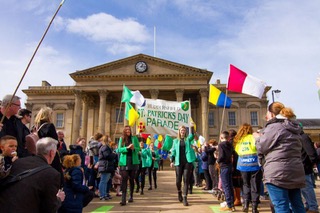 St. Patrick's Day Parade sponsors
This year HHSmith sponsored the St. Patrick's Day Parade in Huddersfield.
An absolutely brilliant event bringing the community together.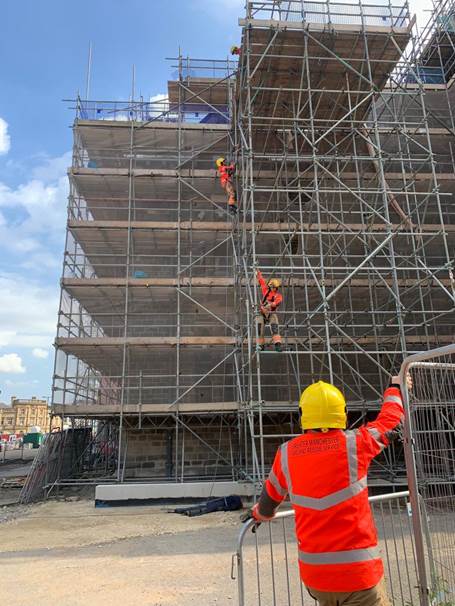 Firefighters make use of the scaffolding at Rochdale Town Hall
We recently opened our Rochdale Town Hall site on a weekend to facilitate high level training by Greater Manchester Fire and Rescue Service. Crews from both Rochdale and nearby Littleborough benefitted from being able to carry out rope rescues, safe working at height climbs up the scaffolding, and off-site ladder pitches. The crew manager from Rochdale Red Watch, thanked HH Smith for going out of their way to help with the invaluable training which many of his crew have never had the chance to undertake.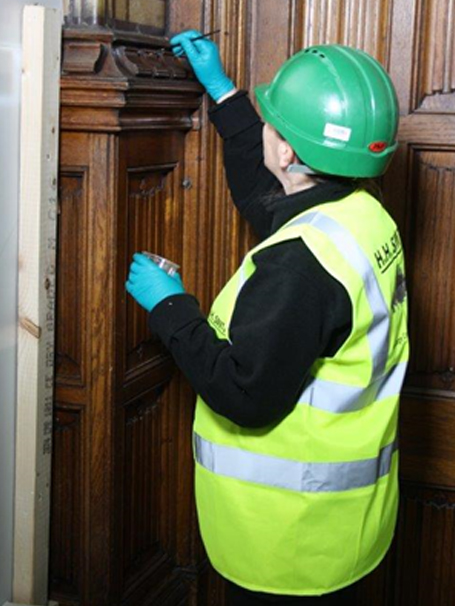 Volunteers working with Lancashire Conservation Studios
The volunteers working with Lancashire Conservation Studios, have now completed their 12-week course with us on site at Rochdale Town Hall. The volunteers were assisting with the cleaning of the furniture, wooden decoration, and the painted walls to the historic rooms on the ground floor and undertook extensive training on how to correctly clean and conserve historic elements.
One member of the course, who was very nervous about joining the programme, thoroughly enjoyed her time onsite and her love for history and historical research shone through. Not only was she able to develop her skills and delve deeper into aspects of local history of the Town Hall and where she lives in Middleton, but she spoke at the graduation presentation of how the course had massively helped her with her mental health. She is now continuing to put her experience into practice and is volunteering with conservation, research, and documentation teams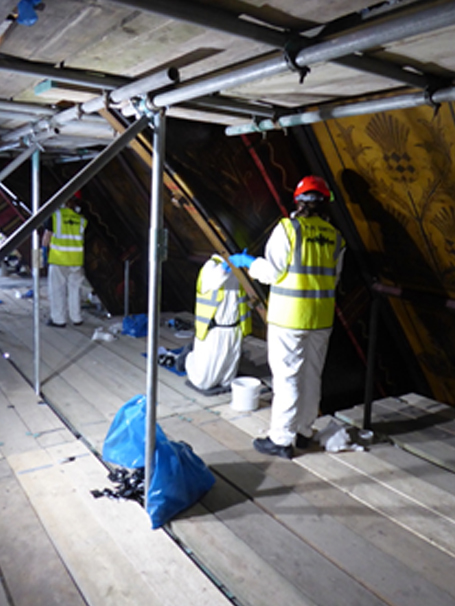 Students from Hopwood Hall College start on site
Art students from nearby Hopwood Hall college have been employed by H.H. Smith to assist Hirst Conservation with the restoration works to the ceiling panels and ornate timbers in the Great Hall at Rochadale Town Hall.
The students, who have all recently completed Level 2 in Art at college, have been employed on a 12–16-week placement which will run until most of them begin University later this year. Each student is working alongside a mentor from Hirst Conservation, and all are enjoying working on the restoration of a majestic building that many live around the corner from.
It's a fantastic paid opportunity for young members of the local community to gain valuable work experience for their CV's, not just working on a Grade 1 listed building, but also working with internationally renowned Hirst Conservation.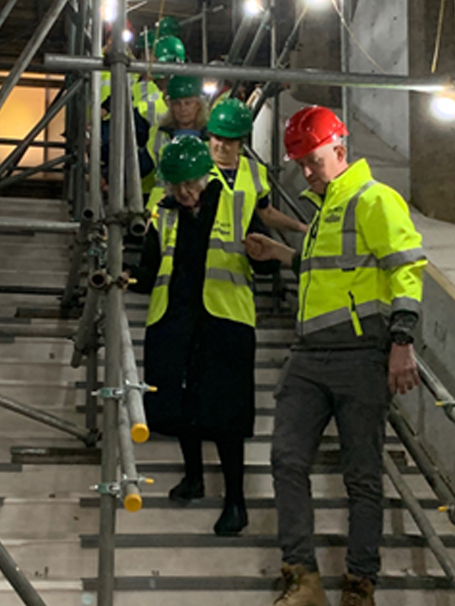 Public hard-hat scaffolding tours continue
Another hard hat tour took place this month with visitors enjoying an hour-long tour of the construction and conservation works that are currently taking place at Rochdale Town Hall. The feedback received from the visitors was excellent with many amazed at the amount of work that has already taken place onsite, and everybody said they cannot wait to see the results